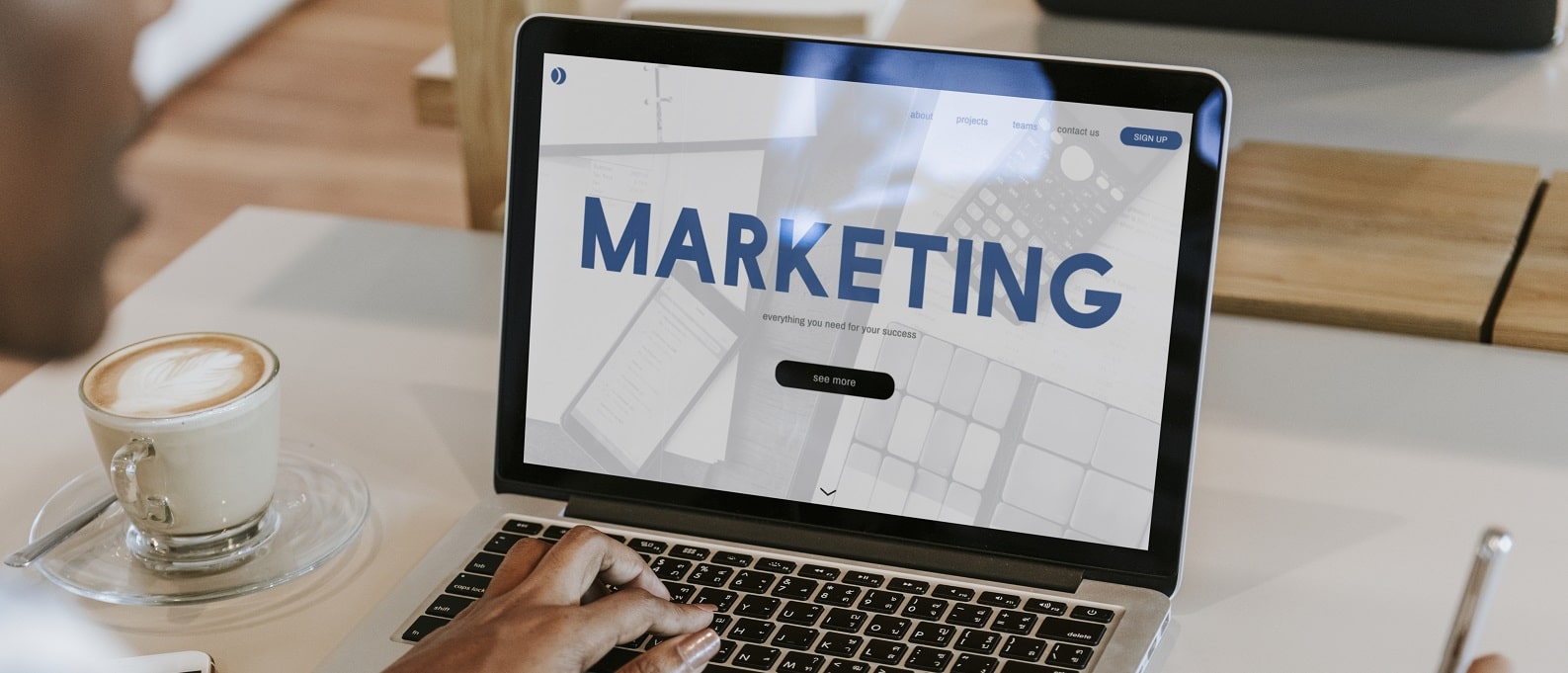 We get asked a lot of times what suits our business Digital Marketing or SEO?
So what suits your business? Let's see as we go down through this article for Digital Marketing and SEO
What is Digital Marketing?
Process of getting people to your business using paid advertising, email marketing, social media is Digital Marketing.
Digital marketing requires a lot of planning and analysis to get the right effects at the right price. It involves extensive proper steps and sales funnels setup and a sustainable budget.
What is SEO?
Search Engine Optimisation or SEO or Search Engine Marketing is a process of tuning your website in such a way that it ranks higher for the keywords that are concerned to your website or your business.
SEO requires thorough planning which involves website designing, unique content creation, backlinking, blogging, Social media presence and many other steps that helps the website or web pages to list top on search engine results page.
Search engine optimization is a long and continuous process.
Digital Marketing Vs Search Engine Marketing?
Digital marketing
Quick Results
Completely Scaleable
Pin point Targetable Audience
Complete Control
Immediate Competitiveness
Easy Guide Lines
Search Engine Optimization
Free Traffic ( at expense of time)
Less Investment
Digital marketing
Fairly Large Investment
Needs Proper Tools
Extensive Knowledge of ads platforms
More Competitive Response
Search Engine Optimization
Time Consuming
Extensive Efforts
Continuously Changing Algorithms
Targeting a Broad spectrum of Audience
So how can you decide what is suitable for your business?
Well, both are suitable for most of the businesses.
Digital Marketing shows results faster, SEO takes time for results to show up.
If I say Digital Marketing requires a budget, SEO too comes at the expense of time,  basically, traffic doesn't come free.
Driving traffic to your website doesn't come at Free of Cost. You have to either invest money or time.
So when it comes to deciding what to choose between SEO and Digital Marketing it is purely a choice of WHAT & WHEN.
What-
What results are you expecting?
A targeted set of visitors visiting your website.
Online presence.
Being on top of your competitors.
When-
When are you expecting these results?
Immediately
In 60~180 days
Whenever it happens, I just don't care.
Ask yourself these basic questions and you would be able to decide if SEO is good for you or digital marketing is great.
You are interested in a pinpoint targeted audience.
With SEO it is hard to achieve results if your products/services/content is looking for a small portion of the broad audience.
Hard, not impossible.
For example- You run an insurance website which sells Car insurance, Health insurance and Travel Insurance.
You plan your SEO journey, you start blogging, backlinking and all the tricks of the SEO trade.
Your page starts ranking on top position due to all the blah blah blah content you have written about Insurance as a whole
And a visitor searching for Buy Travel Insurance lands on this page.
The possibility is either visitor might not be happy to read all your content as he/she just clicked on your link to buy travel insurance and not read about how travel insurance is important and the benefits and stuff.
You cannot rank higher for a page which sells travel insurance directly, for effective SEO you would have to create a whole environment on your website about Travel Insurance, interlinking articles creating cornerstone articles and then finally taking the visitor to the page where you make business (MONEY PAGE)- And this page should be distraction free for making sale.
As a consumer,  I would hardly prefer to read through the whole of your article and then click and land on the money page.
I would be happier if I am taken directly to the page where I can see different premiums and their benefits.
I would immediately pull out my credit card.
This is hard to achieve using SEO, for SEO content is KING and for making a SALE removing distraction is the WINNER.
But your site might be doing well for a variety of other keywords like 'which travel insurance to buy', 'best travel insurance'.
So if you are happy making money out of a small section of visitors while others are just consuming content SEO is a great option for you.
On the other hand, if you opt for digital marketing, you can choose which keywords you want to show your ads.
Also, you can directly take them to a landing page, which has all your USP and a buy now option.
Obviously, you would make money faster than the SEO pages.
Online presence
If you are looking for online presence, like making people aware that your brand exists for certain services/products.
SEO can work wonders for you.
The more you write about your services/products the more your business gets exposure.
The more you blog, share the more people will know about you.
This helps to maintain your online presence.
Being on top of your competitors.
If you always want to be on top of your competitors, SEO might be a shaky path for you.
Often times Organic search engine results fluctuate, experts in the SEO industry like Niel Patel, often spends time experimenting on what and how the algorithm works.
Digital Marketing would be a better option for you as you would be able to have better and consistent results.
This is one of the reasons many companies post their ads even if they are on the top of the search engine listing.
Refer the images below, Godaddy here has targeted the keyword GoDaddy, it is the first result in search engine though.
This also fades out the competitors who target Godaddy as a keyword for their website in the ads section.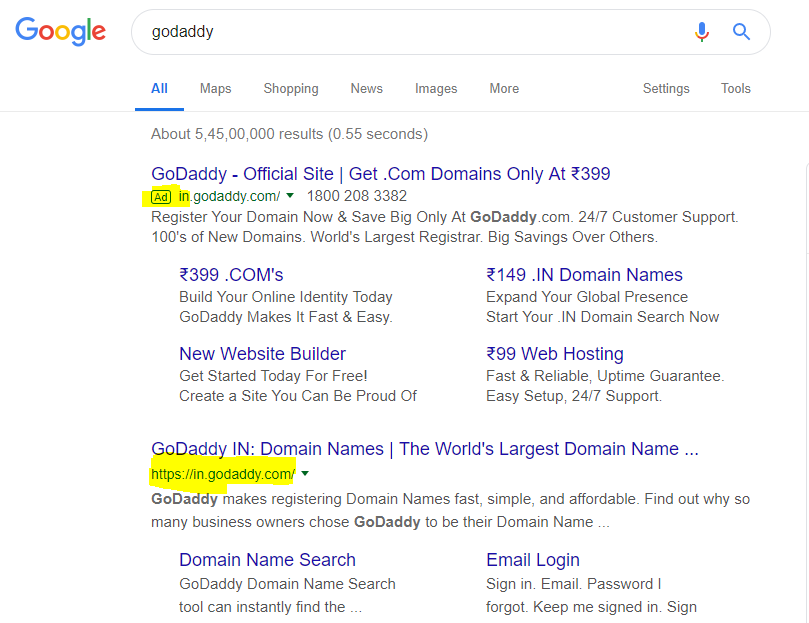 How Fast you want results?
If you are looking for short/long term and quicker results digital marketing is a great option for you.
If you have everything ready and in place (Landing Pages, tracking tools etc) you can start seeing the results within hours if not minutes. Of course, it depends on the type of service/products as well.
If you are looking for results between 60 ~ 80 days and willing to work hard enough,  both SEO and digital marketing are good for you.
If you don't care much of when the results are fruitful (there is hardly anyone who would do this ) then SEO is the best path for you.
There are many more criteria than what have been mentioned above, but these are some of which from where your Online journey should start.
Need Help In Deciding On Digital Marketing Or SEO - Contact Us