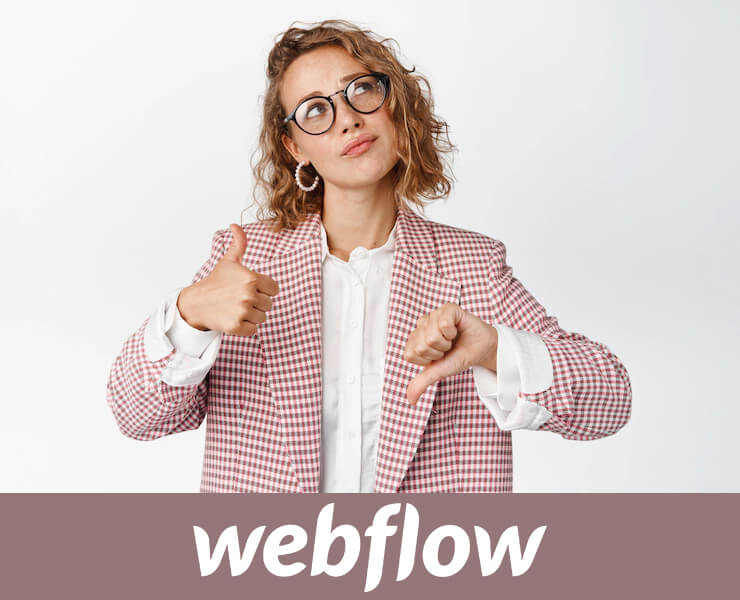 In this article we will discuss Webflow advantages & Webflow disadvantages.
Webflow is a web design platform that allows users to create responsive websites visually.
With Webflow, there is no need for coding, making it ideal for designers and businesses who want to create and launch a website quickly and easily.
Webflow also offers CMS plans for those who need more advanced features, such as ecommerce support and website hosting.
What sets Webflow apart from other website builders?
It focuses on delivering a product that is powerful enough to take high-spec designs and turn them into fully functional websites – all without needing to code.
This makes it an attractive option for designers who want to create unique, stand-out websites.
Although Webflow has been compared to WordPress often, they argue that there are many advantages that they have over WordPress – such as more creative freedom, better site security, and greater ease of use.
If you're looking for a website builder that offers more design freedom than other traditional builders, then Webflow is perfect for you.
With no need for designers to and  developers, it's ideal for anyone who wants to create a site on their own.
Webflow is  the perfect tool for anyone looking to create a beautiful website.
With its easy-to-use visual editor, you can design and build responsive websites without having to install any plugins.
Plus, you can make sitewide changes directly within the editor, ensuring that your mobile versions are always up-to-date.
Webflow Advantages
Design your website exactly how you want with Webflow.
You have complete control over layouts, responsiveness, styling, and interactions, which is one of the best Webflow Advantages.
Plus, you can embed your own HTML code and export your website's code if you ever want to change it.
Webflow provides a comprehensive range of resources to help users get the most out of their web design tool, through Webflow University.
This includes courses, videos, articles and a user forum, all of which are extremely helpful in learning how to use the tool effectively.
Webflow is dedicated to providing their customers with a high quality uptime via their Service Level Agreement (SLA). If they do not meet this expectations, they will refund you. This guarantees that you will receive the best service possible from Webflow.
Webflow Disadvantages
Though extremely versatile and powerful, Webflow disadvantages are obvious but not damaging.
Using this tool effectively requires some technical knowledge or else a significant dedication of time to learning.
There are so many different plans and options available that it can be hard to know which is the right plan for you.
One of the Webflow Disadvantage is it can get pricey if you need some more advanced features, especially for a business site or blog.
However, with a little research you can find the perfect fit for your needs and budget.
Biggest Webflow Disadvantage is some features, such as a multilingual website and user logins, still need to be integrated. However, you can add them to a wish list in the meantime.
Webflow vs WordPress
There are several key differences between Webflow and WordPress.
To start, Webflow gives users much more design freedom than WordPress. With Webflow, you can create completely custom designs without being restricted by templates.
In addition, Webflow has cleaner and better quality code than WordPress. This is because WordPress often requires plugins to function properly, which can lead to cluttered code. With Webflow, you can make edits on-page which streamlines the editing process.
However, one downside of Webflow is that it is more expensive than WordPress. The cost of using Webflow depends on the plan you choose, whereas WordPress is free to use. You would only need to pay for hosting if you use WordPress.
Finally, another difference between the two platforms is that Webflow has a drag and drops page builder while WordPress does not. If you want to use a page builder with WordPress, you would need to install a plugin first, such plugins are often paid plugins (Elementor, WP Bakery etc.)
Webflow for blogging
Building a blog is hard. Building a blog that looks good and works well on every device is even harder. There are dozens of tools that promise to solve these problems, but the easiest way to build a great-looking website is to use an all-in-one platform. Webflow is one of those platforms, and it's a great option for bloggers who want their sites up and running as quickly as possible.
Is Webflow good for SEO?
SEO is one of the basic requirements of any website building platform.
Webflow SEO functionality is easy to use and gets the basics of SEO right.
It is the perfect platform for anyone looking to create a website that is optimised for search engines.
With its clean code and easy-to-use interface, Webflow SEO functions makes it simple to add all the essential on-site optimization features to your website.
These include: meta titles, descriptions, image alt texts, custom permalinks structures, integration with Google Analytics and Search Console, XML sitemap generation, heading tags, contextual links, and other rich text elements.